Kroger, Gardis & Regas, LLP
Attorneys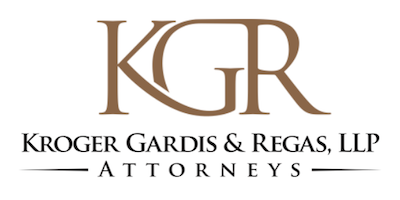 Our doors have been open for 85 years in Indianapolis.
We've changed buildings and expanded our practice over the decades, but our firm's commitment to uphold our founders' vision of providing our clients cost-effective results in an atmosphere of professional excellence and integrity has never wavered.
KGR serves the legal needs of central Indiana's business and financial community, concentrating resources in the commercial law, bankruptcy, real estate and business law areas from its Indianapolis headquarters.
Over the years, the firm has expanded its client services to include the unique and diverse needs of Indiana's municipalities and political subdivisions. We work with numerous governmental units as both general and special counsel and we're also employed to consult with additional political subdivisions and their general counsel on specific or complex matters.
KGR's current team includes three attorneys who are also engineers: partners Brian Bosma, Greg Cafouros and Ted Nolting.
Partners James Knauer and Stephen Peters were recently selected among America's Top 100 Bet-the-Company Litigators® for 2022, and Melissa Hamer-Bailey was recently named a Rising Star by Super Lawyers for 2022.
Several of our attorneys, including partners David Wright, Kevin Koons, Steve Runyan, John Petr and Melissa (De Groff) McCarty have attained Martindale Hubbell's AV Preeminent Rating© by their peers.
The reputation of partner Bill Bock is as one of the nation's premier sports lawyers. He was the lead attorney for the United States Anti-Doping Agency (USADA) in the investigation of the use of performance enhancing drugs by Lance Armstrong. For his work on the Armstrong case, Bill was named a 2012 "Lawyer of the Year" by Law Week Colorado.
KGR law firm is a member of TAGlaw,® a worldwide network of independent law firms with more than 140 member firms based in nearly 100 countries. KGR is also a member of the Westfield Chamber, OneZone Chamber of Commerce and the Indy Chamber.
The firm was recently included on the list of "Best Law Firms" by U.S. News and World Report and Best Lawyers® 2022 Edition.
111 Monument Circle, Suite 900
Indianapolis, Indiana 46204